More Lego Camps added to our Summer Camp 2016 schedule!
Electrify your summer learning!

With a wide variety of summer camps for ages 4 to 12, we have something for every child.


KidZone Museum was picked by www.TahoesBest.com for top things to do with kids in Lake Tahoe!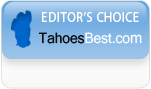 Thank you to our Visionary Circle Leaders.
Join us on June 2 to celebrate the opening of Once Upon A Time...
In A Kingdom Far Away
Thursday, June 2, 4-6 p.m.
$6/person for guests
$3/person for KidZone Museum members
4:20 p.m. Fractured Fairytale Puppet Show

A super fun afternoon to spend with the family and be immersed in the whimsical and imaginary world of medieval fairy tales. Enjoy medieval entertainment and crafts as your children climb into a ship, visit a medieval market, discover animals in the forest, cook in a farmer's cottage.

Learn more about the exhibit!